Fix the Varna Rat repellent facing towards the bonnet, using plastic tags.
Please make sure the repellent is firm and not shaking.
Fix the red clip to positive terminal of the battery and black wire to be clipped to negative terminal. The unit will start functioning.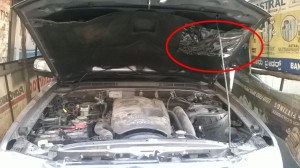 Paste the aluminium sticker opposite side of the repellent to reflect the sound throughout the engine area. This is required only if you have heat absorbing black foam pad.
Within a week you will see reduction in rat activity.