Fix the Varna Rat Repeller facing speaker towards the bonnet hood with the help of plastic tag and supporter provided.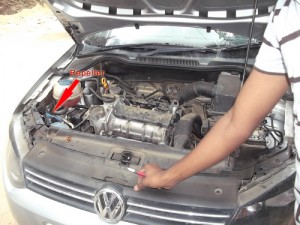 Tilt speaker to 45 degree to reflect ultrasonic sound to other side of engine bay.
Connect the repellent wire to the battery terminals (Red wire to Positive, black to Negative terminal)
Stick the aluminium sticker to the bonnet hood in the direction to reflect ultrasonic sound throughout the engine bay.  Please ignore this step if you don't have heat insulation pad within the hood.