Installation of 2 Varna Suraksha Rat Repeller for XUV.
If you can notice the engine is covered with a hard plastic layer which almost touching (just 1 inch gap) the hood when it is closed. This blocks the ultrasonic sound from the repeller installed on right hand side to travel the left side of the engine. So, we have fixed another repeller on the left hand side for better distribution throughout the engine bay. The same has to be done to SKODA cars also, as SKODA cars engine area is very compact.
Click to enlarge
Both the repellers has to be connected to the battery terminals.
Focus the repeller to the middle part of the bonnet lid. Please stick the aluminium sticker within the bonnet hood towards the repeller sticker.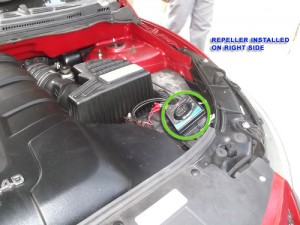 Fix another repeller to the left side and focus towards the middle part of the bonnet.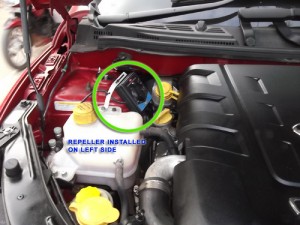 This will help to completely protect your car engine bay from intruding rats.